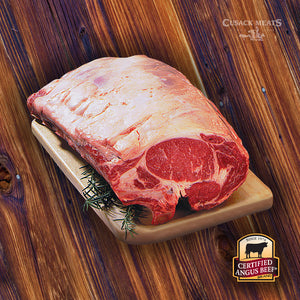 Overwhelming requests have led us to feature this beautiful Certified Angus Beef ® Bone-In centerpiece roast. Properly aged and well-marbled, it's ready to be turned into a memorable meal.  Roast is ready for you to add your own special seasonings.  
Available as a Whole or Half Roast:

Whole (#818):  weighs 14-15 lbs. avg.   Serves approximately 10-12.
Half (#979):  weighs 7.50 lbs. avg.  Serves approximately 5-6.
Available Frozen or Refrigerated.
Preparation - see page 8:  Cusack Preparation Guide